03 December
New Education and Wellbeing Centre — now open at Bryngarw Country Park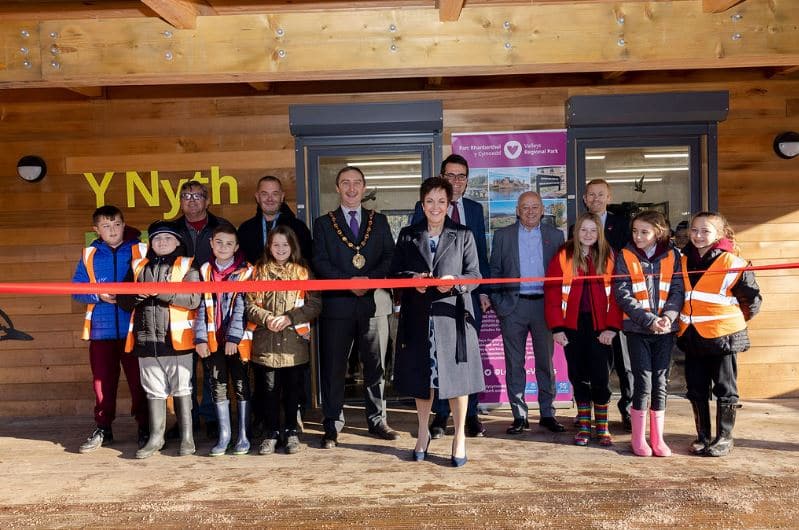 On Thursday 02 December, a brand-new education and wellbeing centre was officially unveiled by Deputy Minister for Arts and Sport, Dawn Bowden MS at Bryngarw Country Park.
Following a £750,000 investment by Welsh Government as part of Valleys Regional Park, the new facility is just one of many site enhancements made by Awen Cultural Trust in partnership with Bridgend County Borough Council at Bryngarw Country Park over the last eighteen months.
Here's everything you need to know about the Park's new education and wellbeing space:
The new facility is called 'Y Nyth' (Welsh for 'The Nest).
It features a purpose built classroom and kitchen, complete with bi-folding doors to a spacious veranda overlooking tree-tops and he River Garw — making it perfect for hosting off-site school lessons, meetings, workshops and daytime retreats.
Y Nyth is available to hire for schools, community groups and other organisations across the South Wales Valleys — and beyond.
VRP hopes that the centre will not only improve the visitor experience at Bryngarw Country Park, but encourage more people to consider the wellbeing benefits of choosing to meet, learn and spend time amongst nature.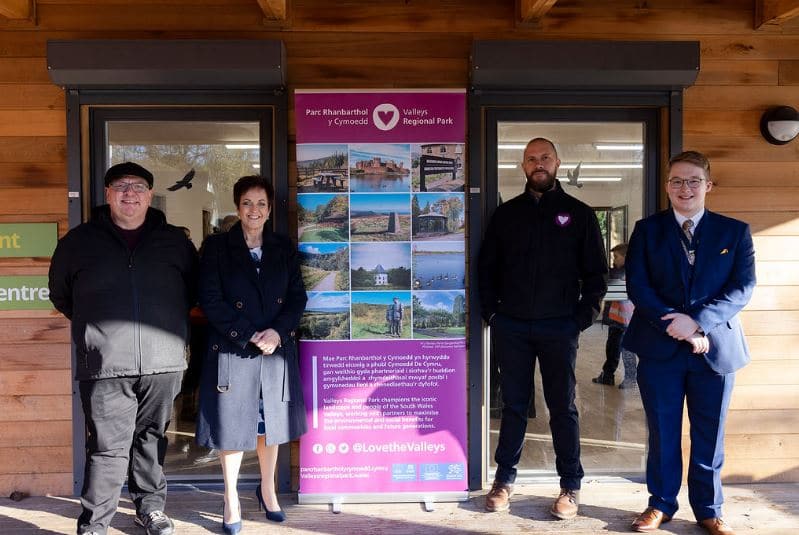 Phil Lewis, VRP Lead said: "I'm grateful to everyone involved in the delivery of the new education centre and other improvements across Bryngarw Country Park. These improved facilities and the commitment of the team at Awen Cultural Trust to work with the wider VRP partnership across the Valleys will play a big role in helping our communities and visitors to better understand our natural environment and how we access it as part of our daily living."
Richard Hughes, Chief Executive of Awen Cultural Trust, added: "We are grateful to Welsh Government for recognising Bryngarw Country Park's potential as regional visitor destination of choice and supporting our vision with this considerable level of funding. The past 18 months of the pandemic has shown us that fresh air and freedom to explore the great outdoors is fundamental to our physical, mental and social wellbeing. We hope our improvements to Bryngarw, and the development of new, high quality facilities which maximise our rich cultural and natural heritage, will continue to attract, engage and educate the people of the Valleys and visitors to the area, for many more successful years."
Bryngarw Country Park is one of twelve VRP Discovery Gateways, which benefit from a share of over £6m of funding, aimed at recognising and maximising the potential of the South Wales Valleys' natural and cultural assets to generate social, economic and environmental benefits.
Valleys Regional Park is funded by the Welsh Government European Social Fund and European Agricultural Fund for Rural Development.