We are VRP — passionate about wellbeing, environment and community in the South Wales Valleys.
Valleys Regional Park (VRP) is a partnership of Welsh organisations, including councils and charities, working with nature to help the South Wales Valleys thrive — environmentally, socially and economically.
The VRP footprint spans from Carmarthenshire to Blaenavon, bordering the Brecon Beacons— and has a network of uplands, woodlands, nature reserves, country parks, rivers, reservoirs, canals, heritage sites and attractions — all interlinked with the towns and villages which are home to around one million people.
With a Network of local attractions, sites, and organisations like the VRP Discovery Gateways, our mission is to improve quality of life, economic prospects, health and wellbeing in the South Wales Valleys. This is achieved by connecting people with the region's growing green spaces — thereby tackling the nature and climate emergency while promoting active lifestyles.
By connecting people with outdoor initiatives, activities and community projects we are able to create recreational and skills-based learning opportunities across the Valleys — attracting inward investment and making it an attractive place to work, live and visit.
Introducing our Discovery Gateways. From country parks and heritage sites to nature reserves, these special places offer inspiring and memorable experiences for everyone, no matter your age or interest.
Are you a fun-seeking family? Or do you just want to get out of the house? Are you already fit and looking for your next activity? Perhaps you'd like to make some new friends? Would you like to increase your mobility? Or would helping to conserve and protect the Valleys wildlife and natural environment appeal to you? experiencing and protecting our fabulous wildlife appeal to you?
The choices are as varied as the changing landscape. Explore our website to see how we can help you — and how you can help the Valleys continue to thrive in return.
What we do
Our Valleys are not a single community but many communities with different views and a range of ambitions. We are a partnership, which means that we encourage everyone to work together to achieve these goals across our Valleys.

We inspire positive changes in the way we care for our Valleys landscape.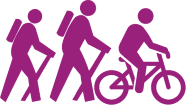 We connect people with a wide range of outdoor activities for health and wellbeing.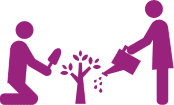 We support communities to explore new ideas and enterprises.
Who we work with
We are governed by a board made up of the leaders of 13 local authorities:
We also work closely with organisations and individuals including:
Community enterprises  |  Charities  |  Government organisations  |  Health organisations  |  Local communities  |  Voluntary groups