Land of discovery and adventure
Located in the region sometimes called the South Wales Coalfield, the Valleys Regional Park has been pinpointed to make the most of the stunning countryside, breath-taking views, rich culture and fascinating nature that is available to all who live in, work in, or visit South Wales.
Stretching from Carmarthenshire in the west to Pontypool in the east and from Bridgend in the south to Merthyr Tydfil in the north, the park is home to thriving communities in bustling villages, nestled amongst some of the most dramatic landscapes: from rolling fields to shady woodlands and boggy marsh to craggy waterfalls.
Discovery Gateways, spread out across the region, offer inspiring and memorable experiences for everyone. Are you a fun-seeking family? Or do you just want to get out of the house? Are you already fit and looking for your next activity? Are you lonely and you'd like to make friends? Would you like to increase your mobility? Would experiencing and protecting our fabulous wildlife appeal to you? The choices are as varied as the changing landscape. The Valleys are yours to enjoy!
You can exercise outdoors, take quiet walks or rambles, go mountain biking or canoeing, visit our vibrant towns and villages towns shaped by a unique cultural and industrial heritage, have picnics, learn about our Welsh roots at heritage theme parks and get up close and personal with nature along the way. And, if all that sounds exhausting, there are plenty of kiosks, cafes and tea rooms offering a leisurely pitstop and a tasty treat.
With so many places to go, things to see and pastimes on offer, the only question is 'where to start?'. The answer is right here.
So, begin planning your next experience now!
What we do
Our Valleys are not a single community but many communities with different views and a range of ambitions. We are a partnership, which means that we encourage everyone to work together to achieve these goals across our Valleys.

We inspire positive changes in the way we care for our Valleys landscape.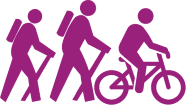 We connect people with a wide range of outdoor activities for health and wellbeing.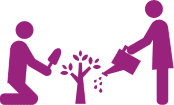 We support communities to explore new ideas and enterprises.
Who we work with
We are governed by a board made up of the leaders of 13 local authorities:
We also work closely with organisations and individuals including:
Community enterprises  |  Charities  |  Government organisations  |  Health organisations  |  Local communities  |  Voluntary groups